This is a sneak preview of a new product we will be releasing within the next week or so. We've been working on this for a while and it's pretty cool. It's called RetroSync and it allows you to use any existing projector to rip audio and the RetroSync unit will automatically create a frame accurate wav file that will match not only the Universal transfer but any true frame by frame film transfer, including any of our older WorkPrinter or Sniper units.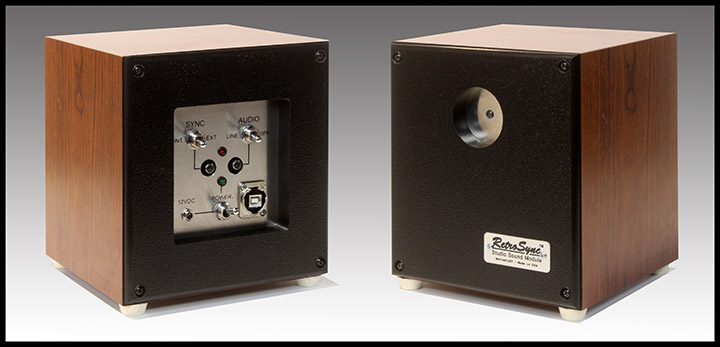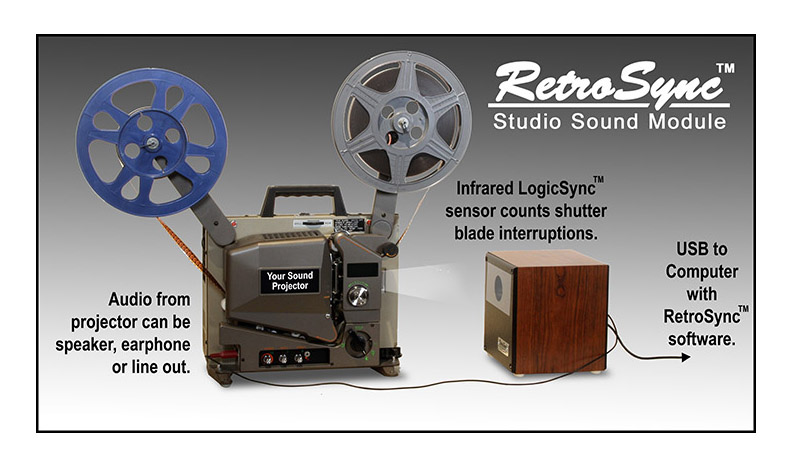 The RetroSync Studio Module will work with any projector in any format with any shutter blade configuration; 2, 3 or 5 blades. The module will attenuate speaker out or you can use line or earphone audio out of the projector. As the RetroSync software records the audio, the module+software keeps track of the shutter blade interruptions and tracks them over the length of the recording. And because it uses an infrared sensor, dark film makes no difference in the accuracy of the sync.
After transfer, you can then assign playback speeds of 18, 24 or 25fps, including fractional speeds for NTSC or PAL or true progressive speeds like 24p. Processing is lighting fast. Transfer all our audio, set it to batch process, and get a cup of coffee. By the time you get back, all your new wav files will be generated that have been time corrected on per frame basis to match the true running speed of your frame by frame film transfer. Also, because it is correcting the running speed to be precise, the software will correct any audible "WOW" that results from the projector having a worn audio transport. All you have to do is find one sync reference on your timeline, line up the clip, and everything will be in sync from one end to the other, regardless of running time. Even if you lose a frame or two due to bad splices, etc, it is easy to reestablish sync after that point because the running speed is constant. Just find another sync reference and you're back on track. This unit will also work with any of the old Bell and Howell sound cassettes from the 60s and 70s or the rare Elmo Stereo projectors that have a once per frame audio tone generator.
We will later be releasing a mobile version that can be used in the field with any Super 8 camera that has a 1/f contact switch to record location audio that is frame accurate on any two track recording device, analog or digital. Shoot and then resolve the audio files using the RetroSync software later in the studio. Or you'll be able to record directly to a laptop running the RetroSync software in the field. The mobile version will also work with the few projectors that have a 1/f contact switch, thereby negating the need to have a working projection lamp.
We're pretty excited about this because it represents a practical solution to a common problem for people transferring film in small shops on a limited budget. If you have a sound projector that satisfies you and your customers' audio requirements, this will sync that audio automatically. And if your projector dies, you don't have a huge investment in specialized audio hardware. Just get another used projector from ebay and keep on marching. And, because it will work with any projector in any format, it is easy to just have one RetroSync Studio Module to use with a variety of projectors.
Anyway, we should have this and the upcoming 2k camera/light upgrade kits on the website within the week. Also new software upgrades coming up with lots of new features and improvements.
Roger