Moderator: Andreas Wideroe
Posts: 2
Joined: Sat Nov 29, 2014 7:06 pm
Is anyone familiar with Wards Film? I can't seem to find any info as to whether it's K11 (probably not K12 it's too old) or E5 (again too old to be E6). The box says it needs to be mailed to Wards for processing, which to me suggests that it's a K11 process like Kodachrome. But if anyone is familiar with it and can shed some light on processing, that would be greatly appreciated!
You do not have the required permissions to view the files attached to this post.
---
Senior member
Posts: 1965
Joined: Mon Sep 26, 2005 12:18 am
Real name: Will Montgomery
Location: Dallas, TX
Contact:
I didn't think that Kodak re-packaged Kodachrome under another brand...more likely it's not a Kodak product and maybe 3M or another manufacturer that would make film for multiple brands.
Looks like you could get it for 99 cents!
Sunday, April 11, 1965: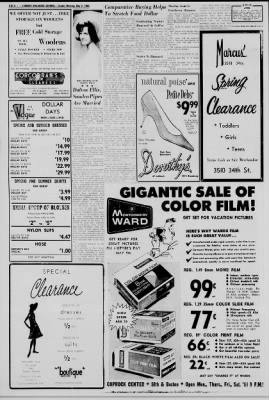 ---
In the UK the film branded for a big seller was usually Ferrania/3M. Not sure if 3M/Ferrania ever made super 8 though.

I believe Boots, a large chemist/pharmacy chain had own brand film made by Agfa. Agfa were probably used by otheres as well. This continued into Super 8 days.

Ilford were in the 8mm colour game for a while but whether or not they packaged home brand film in the UK or elsewhere I have no idea.
Fuji possible got in on the act but I never heard of any in the UK, but elsewhere could have been different. I understand Kodak never made own brand products, but am not sure if true or not.

Packaging is quite collectable as it was usually thrown away. I have no Ilfordcolour packaging from the 1960s when it was around. Best offer was buy a pack of 4 8mm films for price of three. Send them off together and they came back spliced together on a 200' reel, included a title. Now there are some of them in the loft. Awful holiday films taken by my Dad.
Decided not to change web-site, just keep updating. New movies at: http://8mmovies.yolasite.com
---